The documentary film, Walk With Me, a Journey into Mindfulness, is a Theatrical On Demand release, which means it is only playing in cities where there is a request or demand.  A local Madisonian requested a screening for the Sundance Cinema in Madison.  You can reserve tickets for the film for $10 for a November 9 showing at 7:30 P.M.  However, a minimum number of ticket sale reserves must be reached, before it can be hosted by this theater.  Please use the following link to reserve tickets: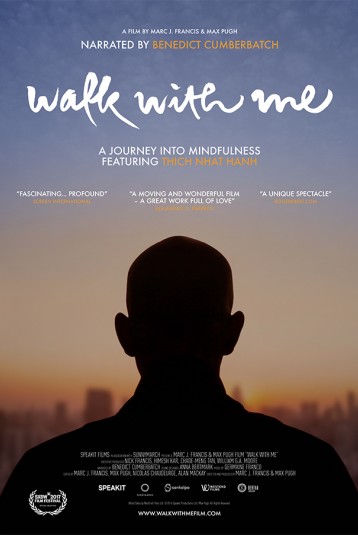 Walk With Me Madison Screening
About the film:
RATING: NR
GENRE: Documentary
RELEASE: 2017
DURATION: 88
With unprecedented access, WALK WITH ME goes deep inside a Zen Buddhist community who have given up all their possessions and signed up to a life of chastity for one common purpose – to transform their suffering, and practice the art of mindfulness with the world-famous teacher Thich Nhat Hanh.
Filmed over three years, in their monastery in rural France and on the road in the USA, this visceral film is a meditation on a community grappling with existential questions and the everyday routine of monastic life.
As the seasons come and go, the monastics' pursuit for a deeper connection to themselves and the world around them is amplified by insights from Thich Nhat Hanh's early journals, narrated by Benedict Cumberbatch.
Read the full article at:
http://walkwithmefilm.com/